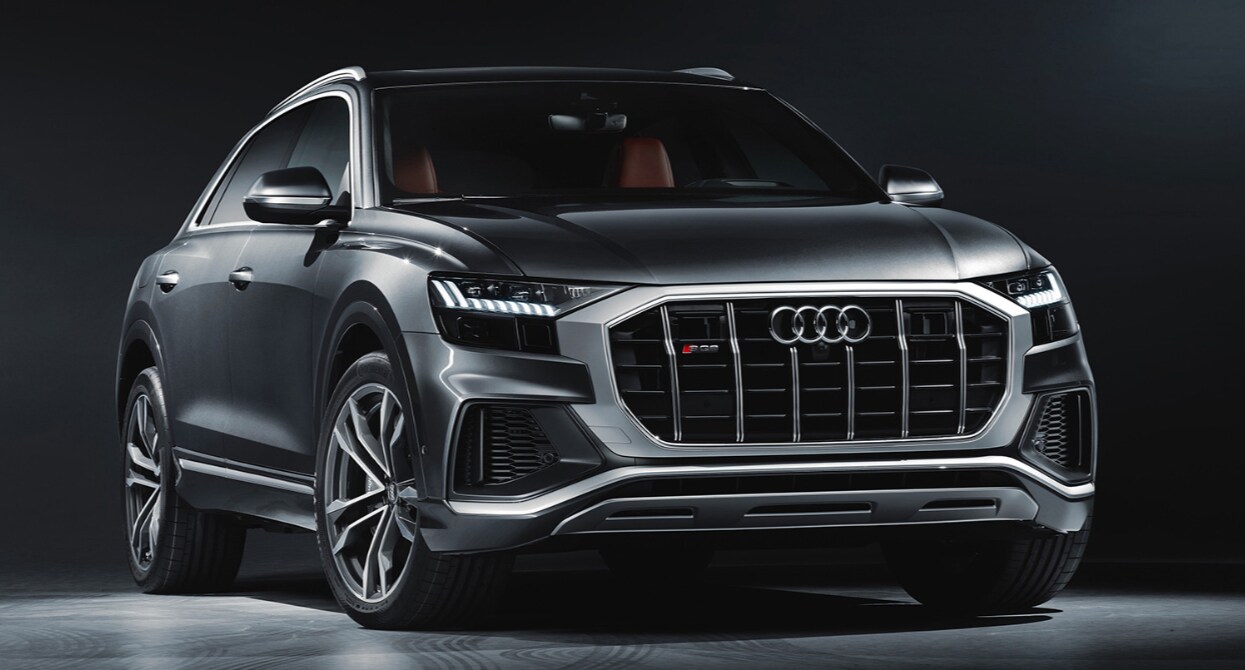 Audi Enhances Power with the Audi SQ8
The Audi SQ8 is a power-enhanced model of the Audi Q8, Audi's coupe-SUV. The SQ8 offers some bold exterior upgrades and a power upgrade under the hood. Audi's mid-size crossover SUV is the perfect balance of space, power, and luxury that Audi drivers are passionate about. Learn more about the Audi SQ8 and schedule a test drive today.
The Audi SQ8 Engine, Power and Performance
The all-new Audi SQ8 is powered by a twin-turbocharged 4.0-liter V-8 that provides 500 horsepower and 568 lb-ft of torque. This is a massive amount of power that can pull the SQ8 from zero-to-60 mph in just 4.3 seconds with top speeds of 155 mph. And, as to be expected by Audi, the V-8 engine will feed standard Quattro all-wheel drive with an eight-speed automatic transmission. Interestingly, the SQ8 has a mild hybrid system that will power the SUV at speeds up to 14 miles per hour. Power is fed through a 48-volt lithium-ion battery pack - which also assists the turbochargers at low revolutions and low-speed acceleration.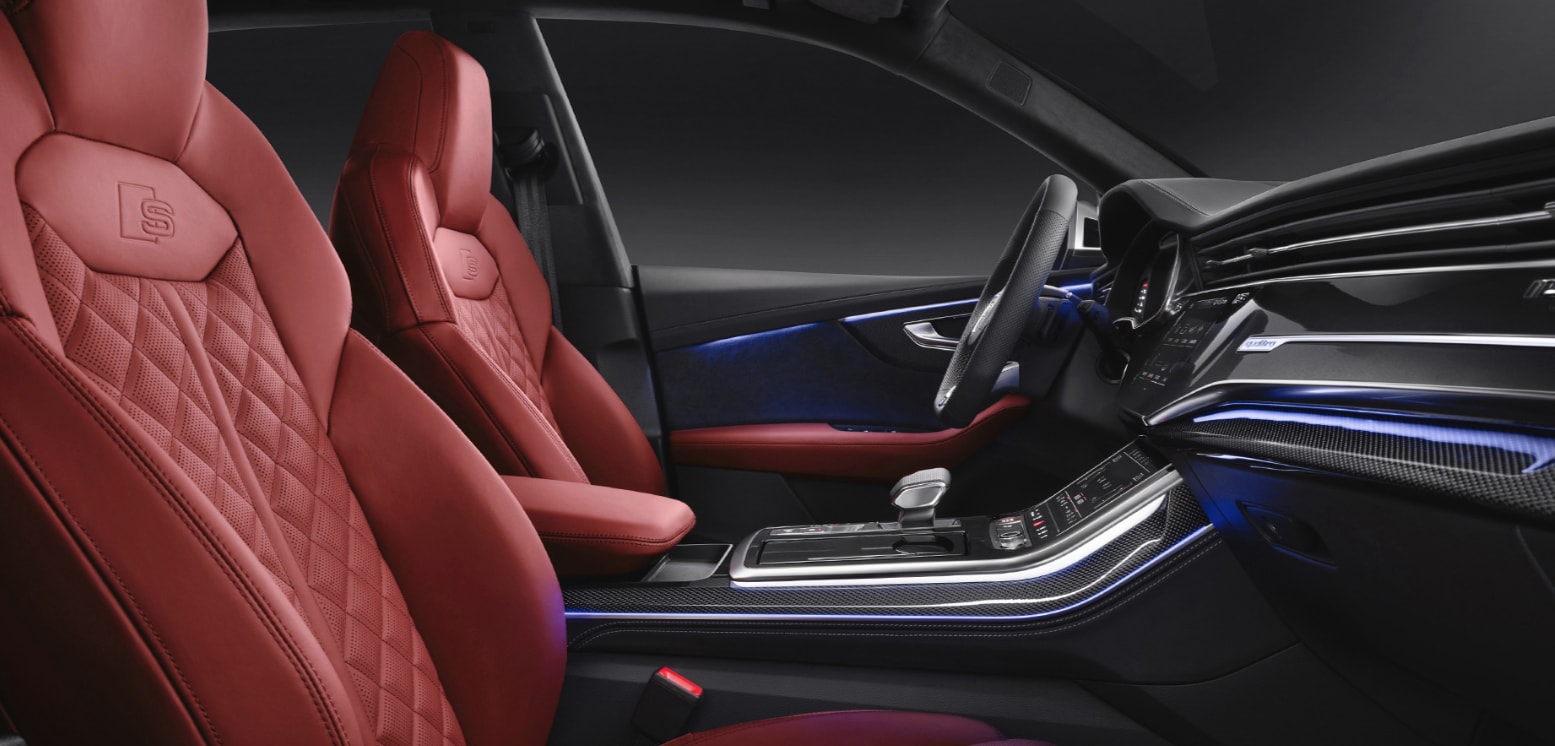 Driver Comfort and Interior Design of the Audi SQ8
Audi's SQ8 has ample space to seat up to five people comfortably. However, the spacious backseats mean car seats or seating adults in the back is comfortable. Plus, the SQ8 has expansive cargo areas in the back, which means road trips, transporting sports equipment or other goods is simple. The interior of the SQ8 is dressed in leather with Alcantara trims and S logos throughout. Additional black accents and diamond-stitched seats and carbon-fiber trims are also available.
Adding to the peace of mind and comfort is the limited and powertrain warranties that Audi will offer. This includes four years of 24-hour roadside assistance and complimentary scheduled maintenance for a short period of time. This will keep you comfortable in your Audi for years.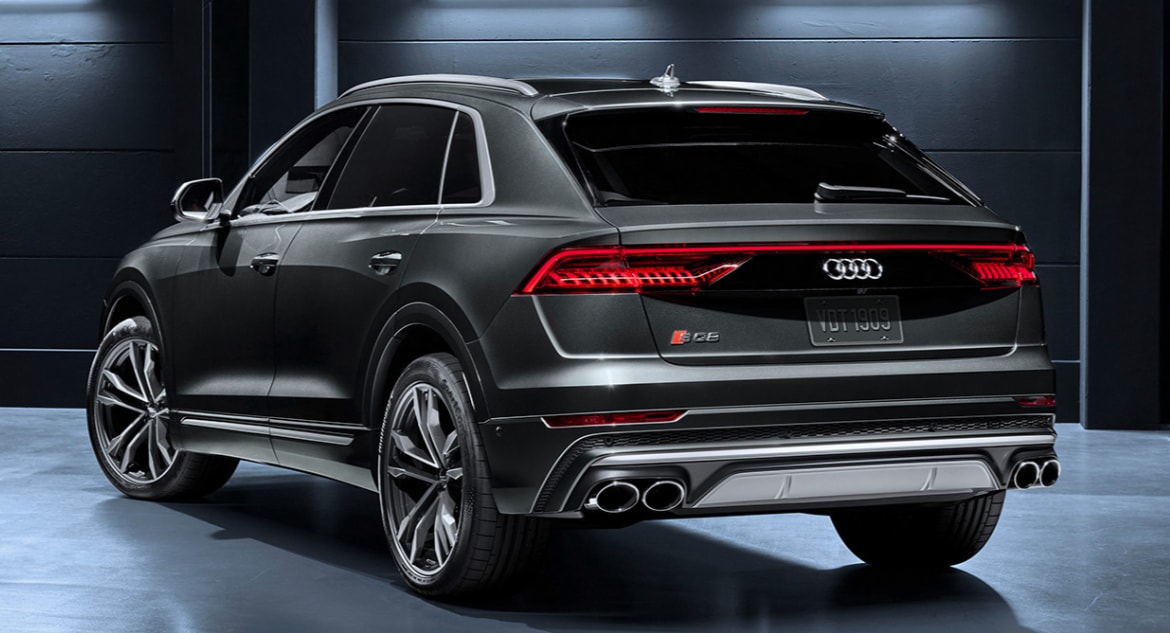 Advanced Technology Throughout the Audi SQ8
All Audi SQ8's are stocked with a dual-touchscreen infotainment system and Audi's Virtual Cockpit with a reconfigurable digital gauge display. In fact, the entire cabin follows an entirely digital design. Of course, the Aude SQ8 has Apple CarPlay and Android Auto integration with a 4 LTE Wi-Fi hotspot. 
When it comes to safety, the all-new Audi SQ8 comes stocked with all the driver-assistance options you could desire. The Audi SQ8 is expected to offer a full suite of safety features that include adaptive cruise control, automated emergency braking, and lane-keeping assist.
Time for A Test Drive
The all-new Audi SQ8 is a driving experience new to drivers. To learn what the power, performance, and luxury of the Audi SQ8 feels like, get behind the wheel! Visit our team of knowledgeable sales professionals at Audi Monterey Peninsula. Our showroom is open 7-days a week at 3 Heitzinger Plaza in Seaside, CA. You can also call our customer support team at 888-720-5973 or book your test drive online today.
Make an Inquiry