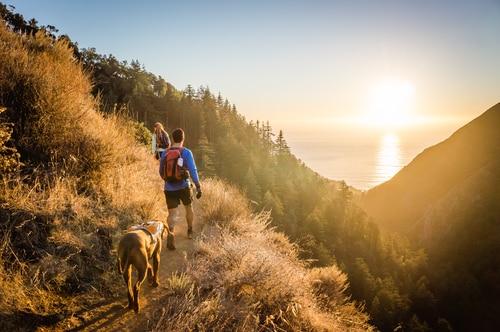 Looking for a summer road trip destination? Audi Monterey Peninsula in Seaside has a great suggestion for you: why not visit one or more of our 117 National Parks? There's no shortage of National Parks you can explore within our state: Yosemite, Redwood, Sequoia and Joshua Tree, just to name a few nearby. Pack up the family and take an adventure you'll remember for a lifetime!
U.S. National Parks Are A National Treasure
There's so much to see and do in our U.S. National Parks. All ages can enjoy camping, hiking, climbing, fishing, rafting, kayaking and viewing wildlife. Whatever you do, it's just great to be out in nature. Make sure to take pictures as the scenery at every park is absolutely stunning! If you choose to venture beyond California, you'll find National Parks and monuments in Utah, Oregon and Arizona, just to name a few. Utah is home to amazing red rock formations in Arches, Canyonlands, Bryce or Zion. Oregon boasts Crater Lake and in Arizona is the spectacular Grand Canyon.
National Park Service: Now It's 101st Year
Were you aware that all fourth graders can qualify for a free annual pass to all the U.S. National Parks? Yes, the Every Kid in a Park program wants to make the National Parks accessible to our youngsters and their families. You should definitely take advantage of this opportunity. Active-duty military and permanently disabled U.S. citizens are also entitled to free park passes. U.S. citizens over the age of 62 are entitled to a $20 lifetime pass. The U.S. Park passes are honored at all federally managed land facilities.
Make Sure to Get Your Vehicle Serviced Before You Hit the Road
Before you hit the road, make sure to get your Audi serviced at our Audi Monterey Peninsula service department. We're conveniently located in Seaside on the Monterey Peninsula. Our factory-trained technicians are among the best in the area. They'll give your Audi a thorough inspection to ensure you stay on the road during your trip. You can also peruse our selection of the latest Audi cars and SUVs. It's easy to make a service appointment or schedule a test drive at our website: www.montereyaudi.com where you can also view our complete inventory of new, pre-owned and Audi used cars.
www.nps.gov/planyourvisit/fee-free-parks.htm
Audi Monterey Peninsula
3 Heitzenger Plaza Seaside, CA 93955
Phone: 877.949.5630
Website: www.montereyaudi.com/?ibp-adgroup=SE_Target